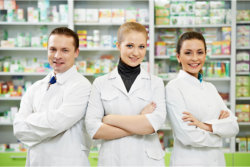 Broadway Pharmacy started its humble beginnings with a pharmacist who was simply looking to serve the community. We started last October 10, 2016. Since then, we have been serving our customers with the utmost respect, compassion, and dignity. We are an independently-owned pharmacy that has its roots grown deep into the local neighborhood. The beating heart of our pharmacy comes from our customers, and we are completely dedicated to provide them with the best pharmaceutical services that they need, no matter what.
Through high-quality medications, affordable services, and compassionate staff, we aim to be a pharmacy that does not only provide the pharmaceutical supplies the community needs, but we also want to spread happiness and a renewed sense of life to all that walk through our doors.
Meet the Owner
Avelino Avelenda was born on 1979 to a Cuban-American family as the youngest of two siblings. Avelino's parents worked hard in order to provide him the education that they didn't get while growing up. Being raised in Union City, Avelino attended both St. Augustine's and Holy Rosary Grammar Schools. He then attended high school at St. Peter's Prep in Jersey City in 1997 and St. John's University in 2002. He has been working since the age of 13 and has always taken the pride in everything he has done. As a grown man and the owner of Broadway Pharmacy, he never lost his childish heart (as evident with the numerous Marvel figurines around the pharmacy), and he believes that it is important to help every customer who walks into Broadway Pharmacy become happier walking out than when they walked in.
If you would like to find out more about Broadway Pharmacy in North Bergen, New Jersey and how we can serve you today, please give us a call now at 201-766-9300.